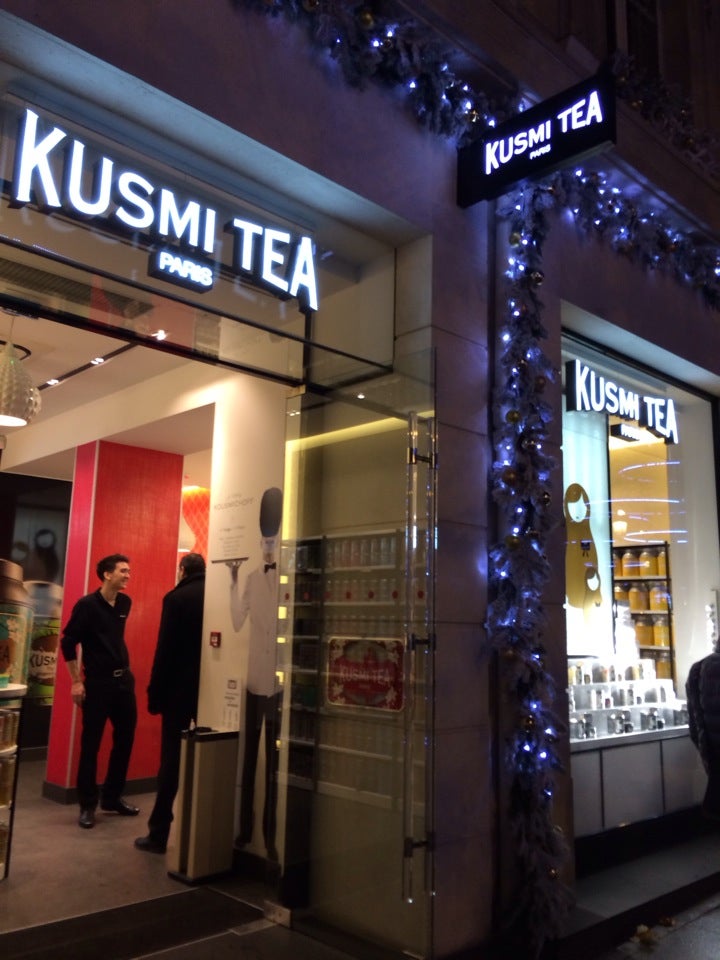 If you find yourself strolling down Champs-Élysées in Paris, then the Kusmi Tea at 71 avenue des Champs-Élysées will probably catch your eye (like it did ours).
This tea shop has a retail store on the lower level where they have their branded teas for sale and in the upstairs area is a cute little cafe – Le Cafe Kousmichoff.
As you might imagine, the prices in this cafe are bit on the high side, but you do get to look out at Champs-Élysées while sipping on your tea, so it's not all that bad, eh?
The teas in the shop downstairs smell great and there are a lot of different varieties to choose from. However, I do not recall seeing any organic options available, which is truly a shame.
Once you head upstairs, you can order a variety of different things in the cafe – including fresh juices, pastries and sandwiches.
Since we'd already purchased pastries at the Paul location across the street (definitely recommend!), we stuck with some juices and a pot of hot tea.
This is where the experience starts to go downhill – they will serve you an entire pot of hot tea, but will only give you a single mug for the steep price (seven euros, if I recall correctly).
There were two of us, but only one mug and they refused to give us another!
No worries though, we just shared that mug. How was the tea? It was fine – not great, but not terrible either. And it's entirely possible that our experience was tainted after being refused a second mug.
Would we purposely return to this cafe for their hot tea? No.
Should you check it out if you're in Paris and in the neighborhood? Only if you want to sip some overpriced tea while gazing down at the famous street below. Otherwise, pick up your hot beverage across the street when you get your delicious French pastries at Paul.