If you're shopping for a fancy new coffee machine for your kitchen, then there is a good chance that you've narrowed the options down to the illy iperEspresso coffee capsules or the Nespresso home coffee capsules. Making a decision between the two can be a bit of a challenge since they are each great coffee pod options. To help you select one, let us help you compare the two coffee capsule systems to determine which is the better purchase.
About iperEspresso Coffee Capsules
If you do any traveling at all, then there is a pretty good chance that you've come across some cafes and coffee shops that serve illy espresso and coffee. In case this familiar red logo is not so familiar to you, here's what you should know about illy – it is an Italian brand known for making high quality coffees since the 1930s. In recent years, the brand has been making a dent in the American market and is ready to take over your kitchen now. Keep reading for my mini illy Iperespresso review.
The mission of illy is to help you be your own barista and make the best coffee at home as you possibly can. The coffee capsules come in a pressurized, sealed canister or cube that locks in the ultimate freshness level. In fact, once you open the canister, you have to refrigerate the remaining capsules.
Using the illy iperEspresso coffee capsules requires the use of one of the home pod coffee machines made by one of the manufacturers that illy is working with, such as Gaggia and Francis Francis. Using these coffee capsules takes only around 30 seconds to get your cup of coffee. What appears in your coffee mug is a nice, rich espresso with a crema that is long-lasting. This perfect cup of espresso is the result of the two-phase extraction process that you get with this coffee capsule system.
You can order these in either a canister, cube or single capsule packs. If you opt for the canister, then you get 21 capsules with a retail price of $18. In the cube, you get 18 coffee capsules at a price of $16.50. For the single capsule packs, you're looking at a retail price of $13 for 14 individually wrapped capsules.
To give you an idea of how much the coffee capsule machine will cost you, here are some popular options that you can use:
Francis Francis for illy X7.1 iperEspresso Machine
Francis Francis for Illy X1 iperEspresso Machine
Illy Caffe Y1.1 Touch Espresso Machine
Gaggia for Illy Espresso Machine
Want to check the current prices on these at Amazon? Click Here. Please note that prices vary.
About Nespresso Coffee Capsules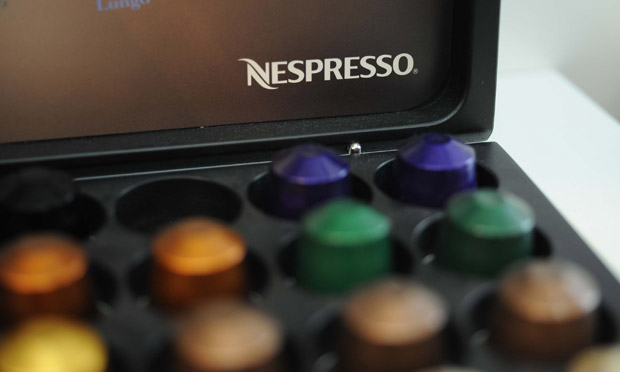 Of the two, I would guess that Nespresso coffee capsules are the more widely recognized brand. It helps that they have been on the market in the US a bit longer than illy. An interesting thing about the Nespresso coffee pods is that you have two different lines that you can buy. Their Original line has the traditional coffee cup pod design. Their VertuoLine are rounded coffee capsules in two different sizes.
Probably the best thing about Nespresso is that you have a lot of choices of both coffee and espresso roasts with both of the lines of coffee capsules. This is great for small offices as well as people who like a little variety in their coffee routine.
When you go to order their capsules, you can just buy them as a single capsule purchase for most flavor varieties, with a few multi-packs available. See what I mean by looking at their site here. Prices are low too, with $1.10 per capsule being the highest price right now.
What's unique about Nespresso compared to illy is that they have their own line of Nespresso branded coffee pod machines, as well as those by other manufacturers, like KitchenAid. To see all their machines at once, check out their official website here. You may need to shop around for the best price.  Click here to look on Amazon now.
Prices for the Nespresso coffee pod machines vary. It's quite the price range, which leaves something for everyone.
Conclusion – Which is Better?
After comparing the iperEspresso and Nespresso coffee capsules, it is clear that each offers great tasting coffee to the serious or casual java drinker. In fact, it is hard to find fault with either of them. But, overall I think that the Nespresso coffee capsules are better for most people. Here's why:
cheapest coffee pods = Nespresso
cheapest coffee pod machines = Nespresso
most coffee varieties = Nespresso
richer cup of coffee = illy iperEspresso
As you can see, the illy iperEspresso only wins at one thing when comparing to the Nespresso – coffee yumminess. Of course, the Nespresso has a good flavor too.
Bottom line – if you've got the extra money to spend, then you are better with illy iperEspresso due to its richer and smoother coffee. If you're on a budget or want the best value coffee pod system, then go with Nespresso. Either way, you get a great cup of coffee.